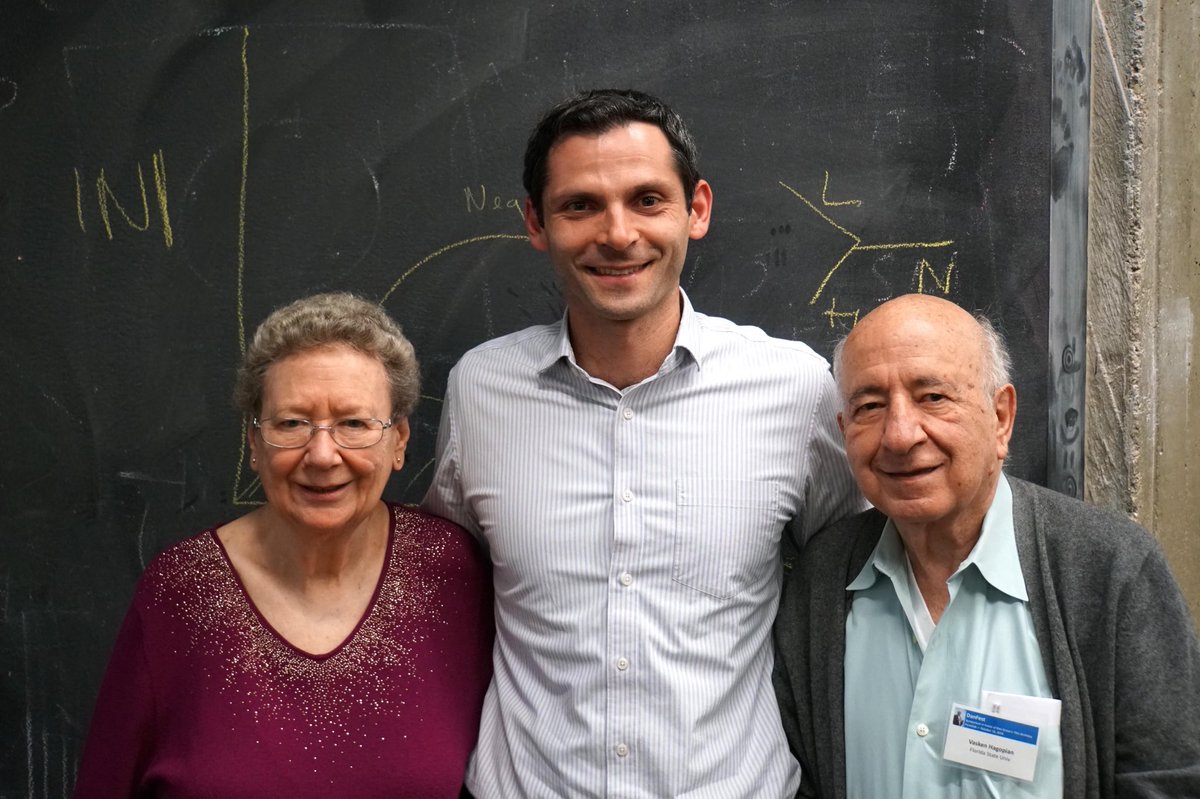 Sharon and Vasken Hagopian with the first Hagopian Family Award recipient, Sergei Gleyzer (middle).
The Hagopian Family Fund celebrates the contributions of Sharon and Vasken Hagopian to the FSU High Energy Physics (HEP) program at Florida State University. The fund supports both an award, a lectureship, and support for Phi Beta Kappa membership for FSU physics majors.
Vasken Hagopian joined the faculty of the Florida State University physics department in 1970 as an Associate Professor and rose through the ranks to become the Joseph Lannutti Professor of Physics. Sharon Hagopian joined FSU as a Staff Physicist in 1975. For more than 40 years the Hagopians were foundational in all of the activities of the FSU HEP group.
The Hagopian Family Award is given annually to recognize and support one or more graduate students doing their dissertation in high energy physics.
Year
Recipient(s)
2021
TBD
2020
Diogenes Figueroa
Redwan Habibullah
2019
Daniel Diaz
2018
Arash Yunesi
2017
Andrew Ackert
Steven Honeywell
2016
Samuel Bein
Ajeeta Khatiwada
2015
Jordon Adams
David Westmark
2014
Brendan Diamond
Nobuo Sato
2012
Joseph Bochenek
Karoline Köpp
2011
Heribertus Hartanto
Venkatesh Veeraraghavan
2010
Jeff Haas
Paolo Rottmann
2009
Sergei Gleyzer
The Hagopian Family Fund also supports an annual Lectureship. The first Hagopian Family Lecturer was Joseph Incandela (UC, Santa Barbara) on April 17, 2014.
Year
Lecturer
2021
Randall Ruchti
(University of Notre Dame)
2018
Ani Aprahamian
(University of Notre Dame)
2017
Sally Dawson
(Brookhavan National Lab)
2016
Edward "Rocky" Kolb
(U. of Chicago)
2015
Chris Quigg
(Fermilab)
2014
Joseph Incandela
(UC Santa Barbara)
The Hagopian Family Fund also pays the initiation fee for physics majors elected to Phi Beta Kappa.
Donations to the Hagopian Family Fund can be made through the FSU Foundation.
Created Mar. 22, 2013 - TA, modified Mar. 16, 2021 - TA