513 Keen Building

Tallahassee, Florida 32306


Phone: (850) 644-1492

Fax: (850) 644-6735
US CMS ANNUAL COLLABORATION MEETING
May 10-11, 2002
Physics Department
The Florida State University


The 2002 US CMS Annual Collaboration meeting will be held on May 10 and 11 at the Physics Department of Florida State University in Tallahassee, Florida. The meeting will start on Friday May 10 at 1:00pm. The Advisory Board meeting will be held on Friday May 10 before the Collaboration Dinner.

The meeting room has a Polycom Videoconference system with both ISDN and IP address capability. The room is also equipped with Laptop projector and wireless network.

The weather in May has an average low of 60 degree F (15C) and an average high of 85 degree F (30C). Rain is possible.

A guide to local sightseeing can be found at www.co.leon.fl.us/visitors/attract.cfm.
Or check out this more general Visitor's Guide.

The other WEB pages will be constructed during the next few weeks.

Welcome to Tallahassee, the State Capitol.


Agenda - Advisory Board
Agenda - Collaboration Meeting
Registration
Airlines
Hotels/Motels
Area Maps
Area Restaurants



HCAL Group Photograph at Florida Tech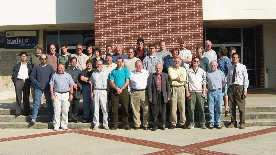 HCAL Group Photograph at Florida Tech

---
Agenda - Advisory Board

                    US CMS Advisory Board Meeting
                      Florida State University
                        7th Floor, Keen Bldg
                         May 10, 2002  17:30

Friday, May 10 5:30 PM to 7:15 PM
---------------------------------
* Issues for this Discussion Meeting             H. Newman
     Transition to the Research Program:
                    Status and Issues
        --> Funding Strategy and Steps           K. Stanfield
                    Going Forward
     Possible Recommendations to the
                    US CMS Collaboration
* Physics in the US: Related Issues              J.Branson & D.Green
     Discussion of Physics Analysis Center:
                    Working Group

* Contributions from the IB Chairs
* Mext Meeting Site and Date                     H.Newman
* AOB
                 Adjourn for Dinner by 19:15
      DINNER at the Wharf Seafood Restaurant at 20:00

Agenda - Collaboration Meeting

                    US CMS Collaboration Meeting
                      Florida State University
                        7th Floor, Keen Bldg
                          May 10-11, 2002


Friday, May 10 1:00 PM to 5:00 PM
---------------------------------
   1:00  Introduction                            Harvey Newman
   1:10  Welcome to Florida State                President Talbot d'Alemberte
   1:20  Meeting Logistics;                      Vasken Hagopian
         Activities of the Florida State Group 
   1:35  JETMET PRS Report                       Sarah Eno
   2:00  MUON PRS Report                         Darin Acosta
   2:25  E/Gamma and b/Tau Report                Jim Branson
   2:50                 COFFEE
   3:10  Remote Control Room & Physics           Dan Green &
         Center in the US                        Lothar Bauerdick
   3:40  Discussion                                  All
   4:00  US CMS Core Software Report:            Ian Fisk + All
         Discussion of Analysis & Software Issues
   4:30  TriDAS Issues & Progress                Wesley Smith
   5:00                 ADJOURN

   5:30 - 7:15   Advisory Board Meeting

   8:00      DINNER at the Wharf Seafood Restaurant



Saturday May 11: 8:30 AM to 5:45 PM
-----------------------------------
   8:30  Report to the US CMS Collaboration      Harvey Newman
   8:50  CMS Status and Schedule                 Michel Della Negra
   9:20  Report on the US CMS Construction       Dan Green
         Project: Transition to Operations
  10:20                 COFFEE
  10:45 US CMS Software & Computing Project:     Lothar Bauerdick
        Tier1 and Tier2 Center Status
        Relationship to Grid Projects

  11:45 CMS Core Software & Computing Project;   David Stickland
        The LHC Computing Grid Project

  12:20        LUNCH on Keen 7th floor

   1:20 Transition to the Research Program       Harvey Newman,
        Discussion of Issues                     K. Stanfield, et al
   2:45 Education & Outreach: QuarkNet Status    Randy Ruchti
   3:05                 COFFEE
   3:30 ECAL Status & US Issues; Discussion      Ren-yuan Zhu
   4:00 Si Tracker Progress & US Issues          Regina Demina 
   4:20 Heavy Ions in CMS                        Bolek Wyslouch
   4:40 PRS progress & US Analysis Issues        Jim Branson
   5:10 Election Committee Report:               Jim Hanlon
        CB Chair, Deputy CB Chair, ASCB Members 
   5:30 AOB; Next Meeting
   5:45                ADJOURN

   6:30-       DINNER at the Hagopians'

Talks on the net:
Friday Talks
Sarah Eno
Darin Acosta
Jim Branson
Dan Green #1
Wesley Smith

Saturday Morning Talks
Michel Della Negra
Dan Green #2
Lothar Bauerdick
David Stickland

Saturday Afternoon Talks
Randy Ruchti
Ren-yuan Zhu
Regina Demina
Bolek Wyslouch
Jim Branson
Jim Hanlon
Registration
The main purpose of the registration is for planning purposes. We need to know how many are attending the conference, and how many will be at the Collaboration Dinner. The auditorium we will use depends on the number of attendees. We are attempting to secure University funds in the hope of avoiding a registration fee.
Every effort will be made to keep the Collaboration Dinner cost below $25 per person. The final restaurant choice will depend upon the number of attendees.
Please inform Vasken Hagopian via Email to vasken@hep.fsu.edu as soon as practical, with the following information.
Name:
Institution:
Email address:
Arrival date and time:
Departure date and time:
Number at Collaboration Dinner on Friday May 10:
Number at dinner on Saturday May 11:
We will prepare an Email list of attendees and send information from time to time.

Airlines
The Tallahassee Airport (about 5 miles from campus) is served by five airlines. The major airline in Tallahassee is Delta Airlines, with connections via Atlanta, Cincinnati and Dallas. Also Delta has connections from Miami and other Florida cities. Other airlines that serve Tallahassee are:
US Air via Charlotte, NC.
Northwest Airlink connections via Memphis, Tennessee
Air Tran connections via Atlanta, and other Florida Cities.
Continental Connection.
Not all the flights are jet airplanes, so please check before booking. Airline ticket costs vary daily (or so it seems). In general tickets purchased three weeks in advance with Saturday night stay over are the lowest cost. Air Tran is a low cost airline with no Saturday night requirement. All major car rental companies have booths at the airport.


Hotels/Motels
We have blocked fifty rooms at each of the following two Motels, May 9 through May 11. When making reservations mention Physics-CMS to get the special rates. The rooms will be held until April 22, 2002.

1. University Motel, 0.4 miles east of the Physics Department.
691 West Tennessee St (US 90), Tallahassee, Fl. 32304, on the northeast edge of Campus.
Reservations: 850-224-8161, FAX: 850-222-5688 or send email to reservations@universitymotel.com
Web page www.universitymotel.com
Single room block rate $45 ($49.50 including tax).

2. Tallahassee-Downtown Holiday Inn Select, 1.2 miles east of the Physics Department.
316 W. Tennessee St (US 90), Tallahassee, Fl 32301
Reservations: 850-222-9555, FAX 850-577-0524
Web page www.holidayinntallahassee.com
Single room block rate $69 ($79.50 with tax). For two persons $74 + tax.
Complementary airport shuttle service.


Area Maps Tallahassee Area Map [.ps] [.gif]
Another Tallahassee Area Map [.ps] [.gif]
Tallahassee (FSU campus, downtown, and airport) [.ps] [.gif]
West end of FSU campus (Physics and CSIT) [.ps] [.gif]
University, centered on the Physics Building [.ps] [.gif]
Local streets around the FSU campus [.ps] [.gif]
University and surrounding area, centered on the Physics Building [.ps] [.gif]
University Motel and surrounding area [.ps] [.gif]
Holiday Inn and surrounding area [.ps] [.jpg]
Klingman Plaza (downtown) [.ps] [.gif]
TalTran Bus Routes


Area Restaurants
Rated restaurants
Latest Ashby Stiff reviews


---
Created February 15, 2002 by Harvey Goldman
Last Updated: May 11, 2002 by Harvey Goldman
Please send any commments or questions to vasken@hep.fsu.edu
---